Equipment Finance Products
We offer a range of finance options to suit your requirements – ask us which one is best for you.
Lease the equipment you need with no upfront deposit and flexible terms to match your cash flow requirements. The lender owns the equipment during the lease agreement.
Features:
Most depreciable assets can be financed
Terms range from one to five years
Interest rate and repayments fixed for contract term
Irregular or seasonal payment schedules available
Benefits:
Preserve your working capital with 100% financing
Rental payments may be tax deductible if you use the asset to generate income
May be able to claim input tax credit for rental and other charges that are subject to GST benefits
So when considering a leasing option, think:
equipment that has a long income generating life cycle
no upfront payment as the equipment is typically secured against itself
lease payment fully tax deductible
GST component of lease can be claimed in arrears
Compare Finance Products  |  Download Our Equipment Finance Brochure (PDF)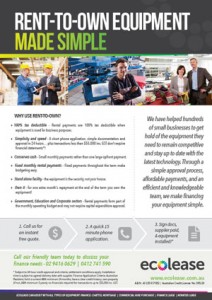 Download PDF
Contact Us
NOTE: As the taxation and accounting treatments of various finance products may vary, we recommend you seek independent expert advice before choosing an option.
Compare Our Equipment Finance Products
| | Ownership | Deposit | Residual | End of Term Options | Tax Treatment |
| --- | --- | --- | --- | --- | --- |
| Rent-to-Own | Financier – with customer purchasing the equipment at end of term for one additional month's payment | No | No | Own the equipment for one additional month's repayment | Monthly payments are 100% tax deductible when goods are used for business |
| Specific Security Agreement (SSA) | You own the equipment throughout the term with the lender taking a mortgage over the goods | Optional | Optional | None – unless there is an optional balloon payment in which you can refinance that amount or pay it in full | Interest & depreciation are tax deductible per ATO guidelines |
| Commercial Hire Purchase (CHP) | Financier – with customer taking over title upon finalisation of contract | Optional | Optional | None – unless there is an optional balloon payment in which you can refinance that amount or pay it in full | Interest, GST & depreciation are tax deductible per ATO guidelines |
| Finance Lease | Financier – with customer taking over title upon payment of pre-determined residual at end of term | No | Pre-determined residual (set by ATO guidelines) is owed at end of term | Refinance the residual or pay it in full to keep the goods | Monthly payments are 100% tax deductible when goods are used for business |